Corporate Services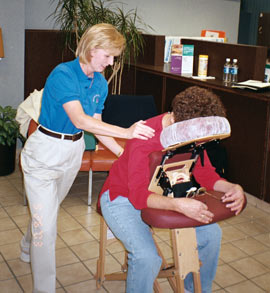 On-site Corporate Chair Massage - Show your employees you care!
In today's environment, every business strives to gain a competitive edge while finding ways to increase employee performance, decrease stress related injuries, reduce absenteeism and turnover without affecting the bottom line.
One approach is to promote employees and wellness, the heart of every organization. Studies show that happy, healthy employees contribute more to a company's bottom line when they realize they are appreciated.
Our professional on-site team comes to you. Sessions can vary in length from 7-30 minutes. They are designed to reduce tension in the upper body and extremities while promoting energy and alertness. This is done over clothing and is a unique way to say thank you to your staff for a job well done. Companies have contracted us for employee appreciation events, health fairs, and special occasions.
---
Wellness Programs
Our classes are designed to help organizations reduce the increasing costs of employee health insurance and improve health by raising the awareness of their employees in regards to the how they handle stress and the changing corporate environment. Each program is interactive, enlightening and geared to teaching the employee personal awareness while making positive changes in their environment.
Some Topics Include:
Reducing stress in the workplace while improving morale and performance.
Warrior Workout for the workplace reduces muscle tension and increases energy.
Self-care techniques to minimize muscle tension in the neck, back and shoulders.
Clinical techniques to address pain from carpal tunnel; TMJ, neck and back pain plantar fasciitis; etc.
Stretching for the workplace.
---
Golf Outings
We work with all levels of golfers, and have experience working with coordinators to make their event unique as well as successful. Having a professional massage team at golf outings is very common on the east and west coast. Now this same concept is available in Dayton.
This service provides added benefits for the player and is designed to:
Increase Flexibility and Range of Motion
Improve Core Rotation
Reduce tension in the muscle groups used in the game
Improve Energy and Alertness
Lower Blood Pressure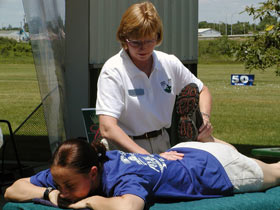 ---
Corporate Clients We Have Served
Burton Metal Finishing
Schear Financial
Kettering Hospital Women's luncheon
Citilites Restaurant
LCA Vision Corporation
National City Mortgage
National Association of Credit Managers
Ameriprise Financial Services
Parker, Carlson & Johnson Investments
YSI Inc.
CYMI, Inc.
National City Bank
Wilmer Hale
Miami Valley Research Park Foundation
Kodak
MeadWestvaco
Huntington National Bank
Dayton Area Jewish Senior Service Agency
Girl Scouts
Miami Valley Research Foundation
National City Bank
Previous Sporting Events
Lord of the Dance – Schuster Center
Dayton Country Club Outing
Country Club of the North Tour
IFMA Golf Outing
Dor-wood Optimist Golf for Kids
Habitat for Humanity Golf Outing
Dayton River Regatta
Dayton River Corridor
Gateway Sports Park
Home Builders Golf Outing
USAF Marathon - Event Coordinator
---
Scheduling Corporate Events
Business Owners, Companies and Sponsors contract DMC for on-site services. Whether you have an office of six or a large event, our massage team can help. We will bring all the needed equipment, music and supplies. All you have to do is supply the space and scheduling. We will do the rest.
Please Provide the Following:
Date of your event
Approximate number of participants
Office or desired location
Type of venue
Contact person
Pricing
Our pricing for corporate and on-site services varies depending on the type of event and related costs. We are committed to providing a top level of service to our clients while offering affordable and competitive pricing. Minimum duration of our visit will vary on your location and type of event. Please, contact us by e-mail or phone for further information or a quote.
Reservations & Payments
A credit card deposit is required upon reservation to hold your space the balance is due when services have been rendered unless agreed upon otherwise between the client and Dayton Massage Connection, LLC at time of booking.
We accept Visa, MasterCard and company checks.
Cancellation & Refund Policy
We require a 48-hour cancellation notice for full refunds
In Client Satisfaction Surveys the most commonly stated appeals are convenience, relaxation from workday stress and DMC's consultative approach. Here is what some of our clients are saying!
Small changes can produce big gains in overall well-being.

S.S., MVRF

Since I have been getting regular chair massage my headaches and shoulder tension has decreased.

C.W, MWV

I am able to work longer because I do not have pain in my neck and back.

S. L, LCA Vision

I learned a technique for releasing jaw pain as a result of clenching, that has been very beneficial.

H. D. Kodak

I look forward to massage Thursday, it has made a big difference in my body and attitude.

J.M., Research Park